There are moments in a person's life when you have to address some really hard things. At times it can be really, really difficult but you know you just have to do it. This past week I witnessed something on National TV that made it so clear I could not sit idly by and not address some issues with Hallmark's Home and Family Show.
As follows is a copy and paste post I made on the Hallmark Home and Family Facebook page as they weekly ask for feedback from the viewers with something they call the "Weekly Roundup":
So here is the thing cherished friends.
I've been thoughtfully pondering how best to address a situation that I believe needs to be re: the use of material/content from a video submission for the Home and Family DIY contest. I get it, really. In this case when you sign up for a contest like this (i.e. the @HomeandFamily #HomeandFamilyDIYstar in conjunction with the Dreamjobbing website) you run into the fact that for all intents and purposes you sign away the rights to your ideas with respect to whatever is submitted. Lawyers put that part in the fine print so the sponsors don't have to look like intellectual property thieves should any of their employees choose to take license with contestant submitted content. It's there, among the ocean of legal speak they put in the rules, nevertheless you enter with eyes wide open, believing and hoping for the best. Contests such as these are wonderful opportunities to meet creative and talented new people and share with them the things that you do best. You also know, hope and believe that your creativity will inspire others…I have certainly seen over the years that this has been true …So, with all this in mind, you go for it.
On March 19, I posted my Dreamjobbing video with "my BEST craft ideas", because that is what they had asked us to send in. So as professionally as I could, I did. Here is the full video:
Come April 6th on the Home and Family show, one of their In-house crafters had an idea that I thought was really similar to my balsa wood picket fence project with minor alterations/variations. I couldn't shake the feeling that my idea had been used, even if only as a "variation on a theme". Even so, I hesitantly let it go and thought it prudent to simply extend grace. I came to the conclusion that my video had apparently sparked some inspiration (see picket fence photo below). Given we were in the middle of the contest, I took it as a sign that the people from H&F were at the very least looking at the video & my tweets, and hopefully in a favorable fashion at that.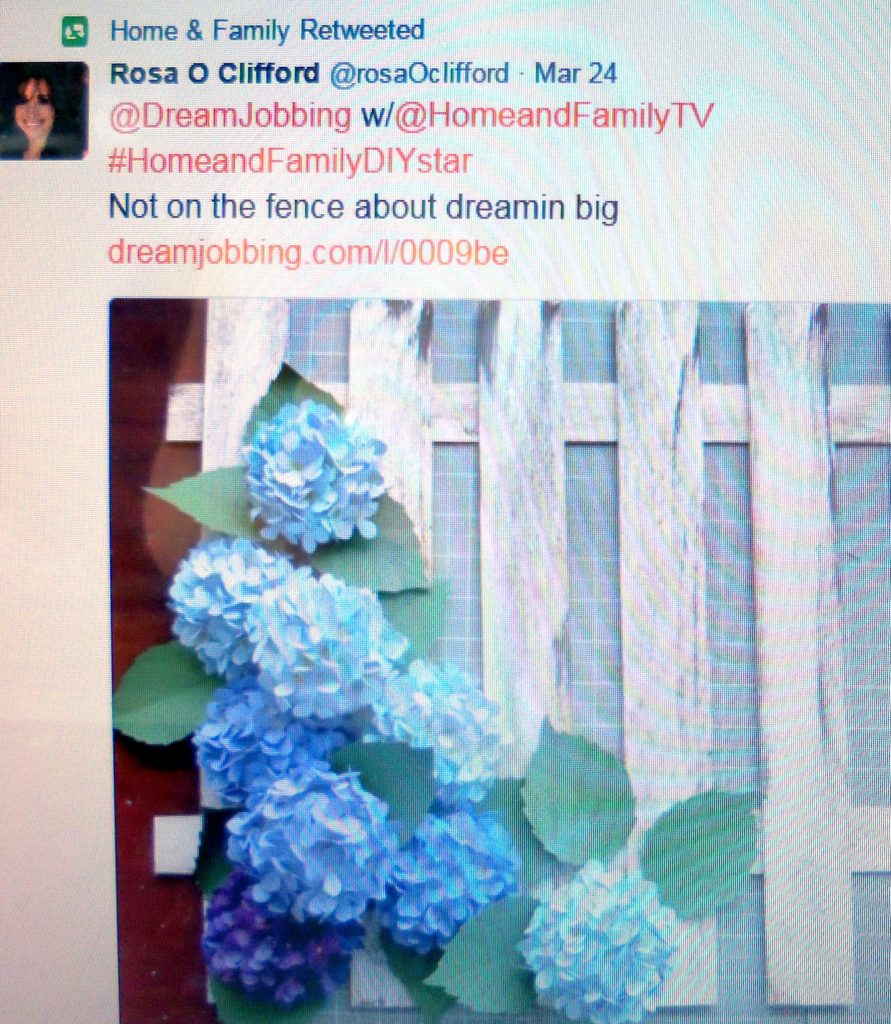 After all, isn't imitation a form of flattery? Surely, if they liked my ideas, it fostered a hope that they might also be interested in having me on the show?
I get it. Crafters/Designers/Artist are always looking at other's ideas to take from it and do something different to make it their own.


THEN on Wednesday's' show (May 25th) my heart sank again as I saw the "cloud motif" that was part of a nursery craft being featured on the show. Coincidence? Maybe. The side by side of my nursery motif craft on the video submission and the similarities with the craft being featured was to say the least grieving to me and many who in private I asked for objective input. Instead of using foam core, wood was used for a bookshelf instead of a wall hanging decoration like mine.

Anyone that has been on my website, the Martha Stewart Website, the Martha Stewart American Made Market and their social media outlets , Facebook, , Instagram, Twitter or Pintrest know this Swan in the clouds idea was based from MY very popular and original "Baby Swan and Baby Owl" © card design (w/ a half moon,stars and clouds layered) with the owls and swans. This card design I DID NOT release on the video, therefore I still own the intellectual property to it.
I remember Martha Stewart was always very thoughtful and considerate – a class act – when it came to crediting the people who may have inspired her. I was very impressed by the fact that regardless of stature, Martha was always thoughtful to identify the source of what inspired her or her team – acknowledgement was given to Haute-Couture designers, local artisans, farmers from all across America, the kid-entrepreneur or the repeat guest who was a stay at home mompreneur that after of the birth of her child with special needs got crafty and started a budding paper art business. I'll never forget that kind of honorable treatment and recognition to creativity and talent on a National TV level, because that last person was me.
I love to teach and inspire others. I've loved watching H&F family. Mark and Christina are classy and delightful hosts. The variation of and use of any  idea would have been better handled  had there been a simple acknowledgement or accreditation of the source or sources of the inspiration, rather than the implicit assumption of originality on behalf of the in-house crafter.
There was another contestant who commented similarly about her submission on the H & F page. She got no response. The lack of response is poor PR, ideally you want to maintain the confidence in the viewer's, right?  I'm not looking to create an argument I think this is a valid observation and it avoids having to go back and clean up any mess made, left by any misunderstandings.
I would love to hear your thoughts on this friends as a matter of holding me accountable, and I'm hoping that Home and Family would be receptive to what you have to offer as well. They are always asking FB followers to leave their input good or bad about the show because they are all about wanting to know what the viewers think. I appreciate the opportunity to have shared mine as a long time and regular Hallmark channel viewer. It's my sincere hope and desire that this situation would be received as a 'teachable moment' so that in the future when "DIY" crafts have been inspired by the creativity or ideas of others, so that honor is given to whom it is due. In doing so, there is moral clarity and continued confidence in the integrity of the Home and Family show.